Who doesn't love a sexy pair of pumps, or a decadent pair of five-inch platforms? Right? I mean, didn't we all get seduced by those ads of long legs in stilettos, pumped up calf muscles promising you rough sex and transforming you into a thoughtless vixen?
Not for me darling.
I'm about to let you in on a really juicy secret. Lean in a little closer while I whisper this life-giving tidbit into your ear: "High heels are for lightweights." If you want to know what the hub-bub is really all about, throw on a pair of sneakers, because it takes real confidence to rock a pair of badass sneaks. Period.
it's like there's a secret between me and my shoes that says, "Yeah girl, I got your back and bitch, you look fly!"
Sure, I've been obsessed with and have collected a few luxury typicals like handbags, watches, and heels. I used to have an entire wall full of high-end handbags…cumulatively pricewise to the tune of a McLaren GT. Got rid of them all.
Nowadays, I get custom handbags made and I only have what I need. As far as heels go, I really don't have much use for them, whether in leggings, athleisure or dress pants, you'll almost exclusively see me rocking some hella rad sneakers. Now, it is all about being a sneakerhead. Luxury sneakers are my new little black dress, my new "it" bag and an essential component of my new superpower uniform. There's something about how I feel when I'm walking in a pair of luxury sneakers. I feel alive. I feel in tune with my entire body. I feel unstoppable. It's like there's a secret between me and my shoes that says, "Yeah girl, I got your back and bitch, you look fly!"
What has become most important to me at this point in life is movement. I typically work standing up. I have a desk that shifts smoothly from high to low, up and down in a matter of seconds to accommodate my body. When I walk my dog, I try to sashay my hips and twist my waist so that I can feel different micro-parts of my body and engage my core. There's something incredibly restrictive in heels which is more like you're posturing yourself to get someone's approval. As if you are here for everyone else. But with sneakers, it's all about me and how I feel. My sneakers are for me, they aren't for you. My sneakers make me feel fuckable. I'm not interested in whether you agree with me or not because it is me and my sneakers taking on our world, one stylish step at a time.
Here are five of some of my favorite sneakers and five places I recommend you buy yourself a pair:
Louboutin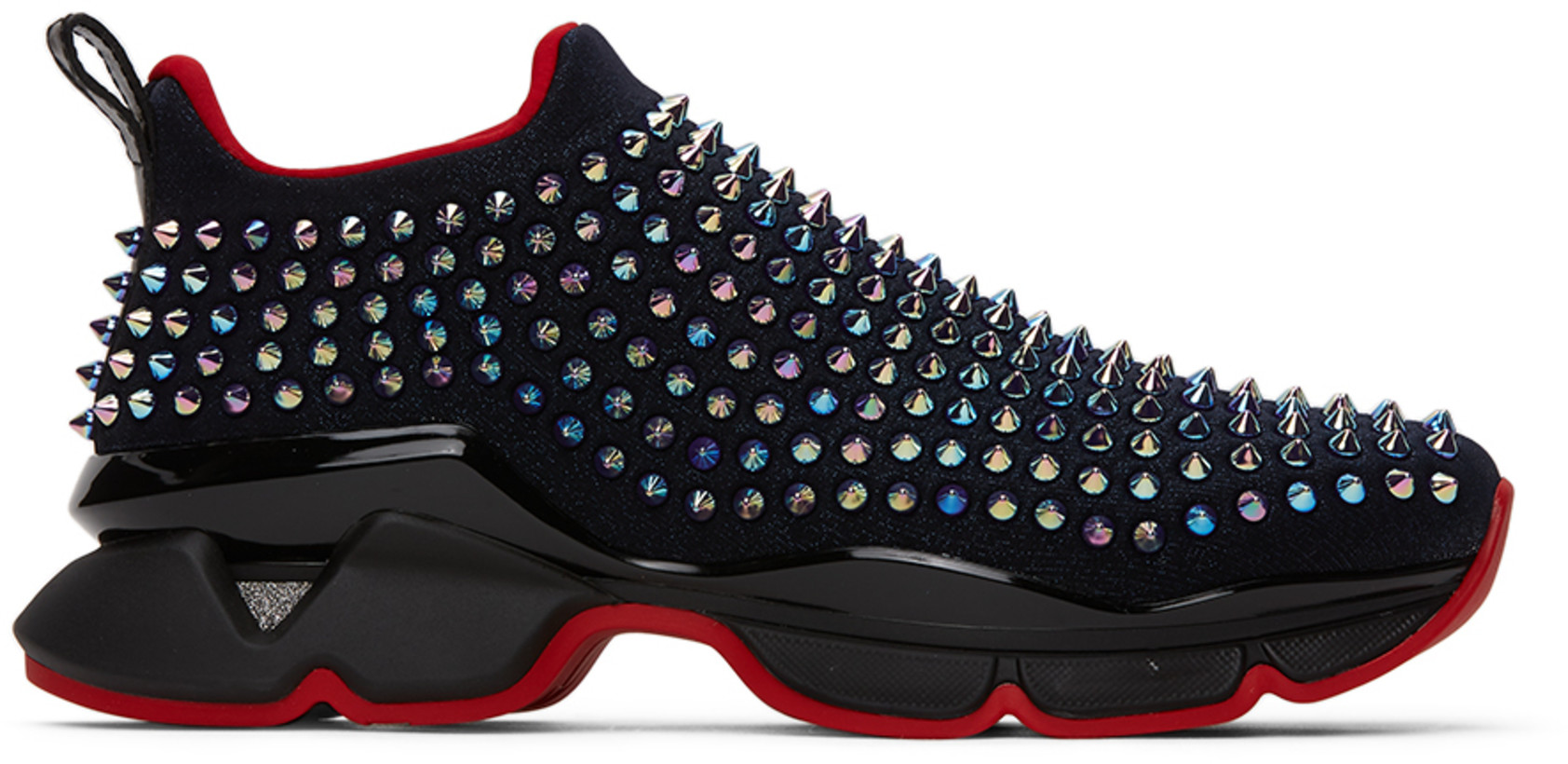 Spike Sock Donna Studded Neoprene Sneakers
$1,295 at Net-A-Porter
Valentino Sneakers
Valentino Garavani Backnet perforated leather sneakers
$695 at Net-A-Porter
Fear of God
+ Fear of God Essentials Chuck 70 canvas and leather high-top sneakers
$110 at Net-A-Porter
Giuseppe Zanotti
Guiseppe Zanotti Leather Sneakers
$595 at Net-A-Porter
Givenchy
Wing two-tone textured-leather sneakers
$775 at Net-A-Porter
Chloe
Clint suede, leather and rubber-trimmed canvas sneakers
$525 at Net-A-Porter
Alexandre Birman
Clarita bow-embellished suede-trimmed leather slip-on sneakers
$425 at Net-A-Porter
A dynamic and creative executive, Audrey has guided household name brands in the health & wellness, travel & leisure, executive training and philanthropy sectors.
Her travel & leisure ventures include the launch of a Hawaiian island destination for Larry Ellison and the Four Seasons, taking a previously unknown locale to #1 in travel in the U.S. and among the Top 10 destinations in the world. The project included creating events and campaigns in partnership with Nobu, Jennifer Lopez, BMW, Serena Williams and various charities.
Audrey's recent foray into the science sector includes working with Google Ventures, Amgen, Lilly, Genentech, Sanofi, Otsuka, Novartis, and AOBiome, through the recently launched biotech SaaS startup Science 37, which aims to disrupt and democratize the clinical trial process.
Her executive development experience includes building leadership models for trainers such as Tony Robbins, training over 30,000 managers worldwide and leading workshops on performance management to over 100,000 individuals across the U.S. She founded The HR Coach, which consults tech startups in training and developing remote management.
Audrey travels between Seattle, Los Angeles and Austin, enjoying personal time with her three xoloitzcuintles and her beau. Not to mention her total obsession with her big-bold-all-natural hair.